Welcome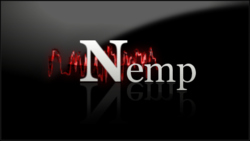 ... on my little page - the home of my mp3 player Nemp.
Nemp is an Mp3 player for Windows with a strong media library for managing even larger music collections. Besides many standard features, Nemp also offers a few other functions that are not found everywhere, e.g.
an integrated web server for remote control of the player, as well as some gadgets like
a birthday function that automatically interrupts the playlist for a birthday song at the specified time.
Download directly here, more about the player on the Nemp page.
Download Nemp

Nemp is open source software and optimized for Windows 7-10. It runs without installation (if you wish) and doesn't change anything at all in the music files without prior consent. Since version 4.12 Nemp is offered as installation package by default. The old method (Zip archives) is also still available.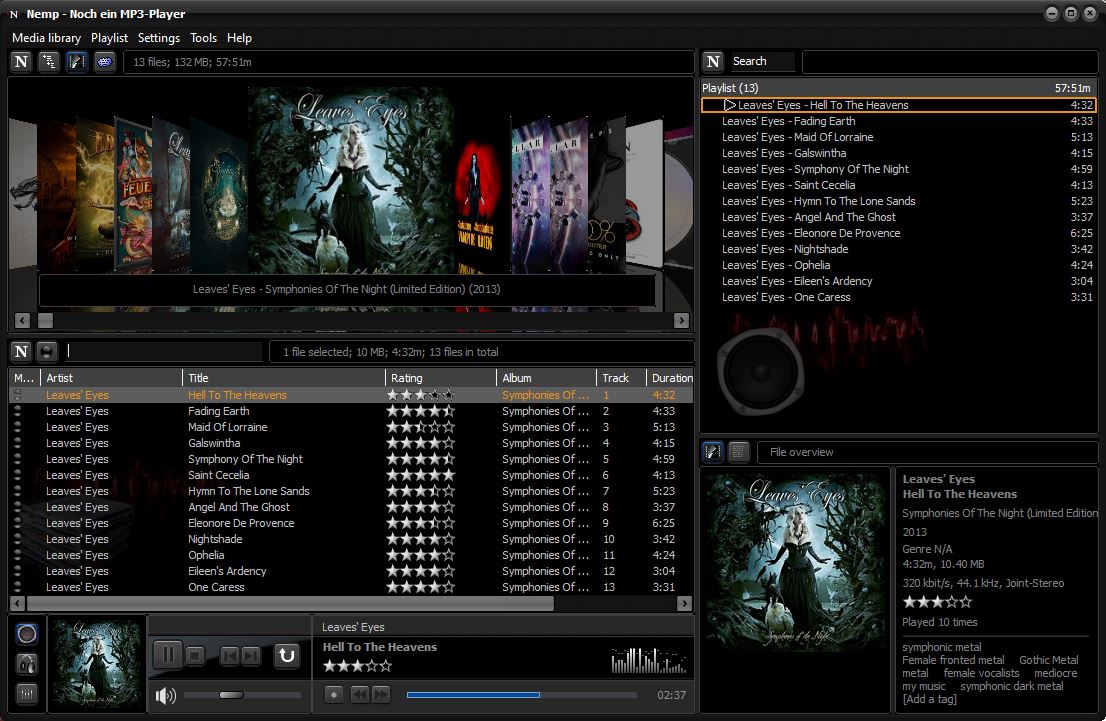 News
This is another slightly bigger update. It contains a few changes, some nice new features and a few bug fixes.
New features and improvements
Customizable coverflow: The coverflow is now more customizable. Cover positions can be adjusted, reflection can be turned off or made less intense - and it now looks much better on light skins than before.
Search for duplicates in the playlist: The playlist can be scanned for duplicate entries, making it easier to delete them.
Revised file overview in the main window: The details displayed now make more sense for cue sheets and web radio, and the display can be limited to the currently playing track.
Customizable display in the playlist, i.e. not always just "artist - title", but relatively freely selectable.
Optional artificial pause between two titles. Practically the opposite function to "detect silence" and "crossfading".
Support of Apev2 tags for mp3 files and support of ID3v1 tags in combination with Apev2 tags.
Changes
For webradio, the current track is no longer stored in the playlist file.
Some internal changes regarding saving settings.
Some windows now have a different foreground behavior.
Bugfixes
Webradio was sometimes not saved correctly in the playlist.
When changing skin not all star graphics were updated.
This is a slightly bigger update, with a few changes in Nemp's behavior in "special cases", some nice new features and a few bugfixes.
Significant change
The decision whether the settings are saved in the program directory or in the user directory is now made in a different way: Decisive is now the existence of the file UseLocalData.cfg in the Nemp folder.
The (portable) Zip-archive contains this file, the installer will install it according to your choice during the install process.
New features and enhancements
Enhanced portability: Nemp now supports besides drive letter correction for external drives also installation in cloud directories by using relative paths in the media library (if possible). Both variants are optional. Both techniques are also fully supported in Nemp playlist format.
Quick access to favourite playlists, including an editor and preview for these playlists.
Improved Drag&Drop in the playlist. Copying files out of (or within) the playlist by holding down the Ctrl key.
Better quality for covers in coverflow (configurable).
Creation of QR codes for the URL of the web server, as well as some small improvements, changes and bugfixes on the web server
Changes
Drag&Drop within the playlist of several titles simultaneously now moves all selected titles one after the other to the selected position.
Nemp now behaves differently if the currently playing track is removed from the playlist. Next track is now the first entry of the playlist in this case.
Handling of the search in the playlist changed. When typing, all hits are always marked with a symbol in the display, with F3 you can go through the hits, Enter plays the focused entry. As a "hidden feature" you can use Shift+Enter to select all hits and move them to a certain position in the playlist (or copy the files into a new directory).
Bugfixes
Under certain circumstances the playlist could not be saved
Fixed some rare exceptions in the coverflow
Version 4.13.2 corrects a nasty bug that crept in during some changes for version 4.13. This could possibly cause data loss in the ID3 tag in individual titles when using the edit function in the main window (quick access to metadata required).
It is highly recommended to upgrade to this version when using version 4.13.
I try to improve little things with every version. But this time, there is a real new feature: Support for ReplayGain, so that tracks from different sources appear with the same (more or less) loudness. I hope it works as it should do. Nemp recognizes existing ReplayGain metadata in the files, but Nemp can calculate these values as well. However, this needs some time. Please read the documentation (F1) for further details.
Note: The Dutch and Russian translation files have not been updated yet. If you use these languages, some parts may appear in english for now.
New features in 4.13
Support for ReplayGain: Automatically adjust the loudness of tracks from different sources
Reworked window "File properties": Uniformly editing of metadata in different file formats, read/write support for more different chunks of data within the metadata, cover art for the media library can be changed
Improved update notifier: Display some more information about the update
New Skin: "Diablo"
Changes
File format for *.gmp (media library) and *.npl-Files (playlists) changed. Media libraries and playlists created with Nemp 4.13 can't be opened with Nemp 4.12 or lower. Conversion to the new format will be done automatically.
moved some dll-files to sub folders
some improvements to the GUI (e.g. some tweaks in the display of the playlist, birthday notifier)
"Track" can now be bigger than 255
Bugfixes
cover art in the taskbar preview wasn't properly scaled in some cases
fixed some minor memory leaks
fixed some possible errors on some playlist operations while a background thread on the media library is running
fixed a possible (but very unlikely and rare) crash while removing all files from the playlist
some adjustment on parts of the code regarding meta data
There was another little bug like in version 4.11.1 which caused trouble on some systems. Now this kind of error should really not occur anymore ...
Version 4.12.2b makes just a few GUI adjustments for a better fit of the new russian translation, which is also now included.
fixed possible exception while scanning for new files
News/Changes in Version 4.12
Smoother scanning of metadata: the player remains responsive while searching for new files.
Added "Wobble Playback" to the effects
Bugfixes:
When re-reading all files, the main window behaved strangely with regard to resizing.
Under certain circumstances it came to an unnecessary download of Coverart from the Internet
Under very rare circumstances, parts of the metadata were unexpectedly overwritten.
fixed icon for playlists in explorer, and (kinda) file type registration
Fixed a bug that prevented Nemp from starting on some systems.